Share

Saturday 12th May 2018
Girls' Documentary Workshop
Free
(No ticket required - First come first served)
2:00PM (Doors open 1:30PM)
INDOOR:
Effra Early Years Centre
Join us for our Girls' Voices Day! Always wanted to make a film? Got a story to tell? Our inspirational documentary workshop for young women aged 14-22 will get you started. Led by local documentary filmmaker and journalist Sue Carpenter, along with other mentors and film industry professionals, this practical, fun, half-day taster workshop will give you the tools to make a short documentary. 
Places are limited to 24 at this event so get there early to make sure you have the opportunity to demonstrate your filmmaking skills!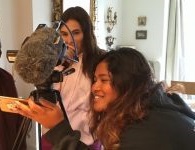 Bring your smartphone – you have all the equipment you need to be an ace filmmaker in your pocket! We'll also have professional video cameras for you to try out.
Topics covered:
Finding your unique voice and why it matters
Developing your idea for a documentary
Structuring your story
Types of shots
Filming
Sound recording
Introduction to editing
Sue is a trustee and trainer with GlobalGirl Media UK , a UK charity which empowers young women, especially those from under-served communities, through digital media training. Global Girl Media UK gives girls the tools and confidence to make content from their own powerful perspectives, and shows their films on global platforms – changing the imbalanced media landscape.
As part of this year's Herne Hill Free Film Festival we are excited to be partnering with the Norwood and Brixton Food Bank, helping to raise awareness for this most worthy of local causes. We will be collecting food donations and spare change at each of our screenings so, if you can, any food or money that you can spare would be greatly appreciated to help this wonderful charity continue the admirable work they do in the local area. We will be tweeting information about urgently needed items so stay tuned on Twitter to @HerneHillFilm.