Share

Saturday 08th April 2017
The General [U] with live piano accompaniment
Free
(No ticket required - First come first served)
3:30PM (Doors open 3:15pm)
INDOOR:
The Guildford Institute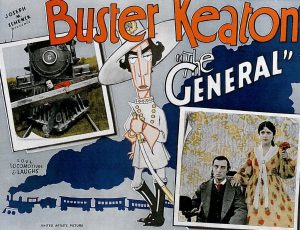 Johnnie loves two things: his train and the lovely Annabelle Lee. When the Civil War breaks out he enlists as a soldier, but it is decided that he is too valuable as an engineer. Annabelle thinks it is because he is a coward. When Union spies capture Johnnie with Annabelle on board, Johnnie "The General" must rescue both his loves.
We are delighted that we will be joined by talented local pianist Richard Harris who will be improvising a live piano soundtrack to this classic silent comedy.
As with all our events during the festival, admission is free!