Share

Monday 15th May 2017
Fuocoammare (Fire at Sea)
Free
(No ticket required - First come first served)
8:00PM (Doors open 7:15PM)
Winner of the Golden Bear at the 66th Berlin International Film Festival, Fire at Sea (or Fuocoammare) is a documentary shot on the Sicilian island of Lampedusa during the European migrant crisis, setting the migrants' dangerous Mediterranean crossing against a background of the ordinary life of the islanders. If it was meaningful enough for Italian Prime Minister Matteo Renzi to carry 27 copies of the film to a session of the European Council, one for each member state of the European Union, it should pique your interest enough to make your come to The Half Moon on 15 May at 8pm for this mid-week documentary screening.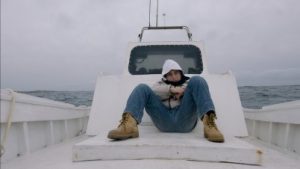 In his 2016 documentary, director Gianfranco Rosi contrasts the lives of the thousands of migrants landing on the shores of Lampedusa with the everyday existence of the locals. The tragic epicentre of the migrant crisis, 400,000 migrants have arrived on Lampedusa over the past 20 years and many thousands more have died making the journey in unsafe vessels refuelled in choppy seas from diesel jerry cans mid-journey. Using mainly fixed camera positions and no narrative voiceover, the film juxtaposes scenes switching between the migrants' daily, desperate landfall, and the everyday existence of one Lampedusa family and one young boy in particular. Samuel's uncle is a fisherman, he does his best at school, he slurps his pasta at dinner, and he likes cutting branches that will make handles for his slingshot. His Lampedusa, his home, is different to the one experienced by the migrants on the island, part holding tank and part cemetery.
The migrant crisis may have left our front pages but it has most certainly not gone away, and this beautifully tragic documentary is a reminder of the struggle that hundreds of thousands of people embark on every year, risking their lives and families for the chance of a better life. Join us at The Half Moon on 15 May at 8pm for this masterly and moving look at the migrant crisis. And don't forget.
Click here to see the trailer.