Share

Friday 29th April 2016
Forbidden Planet + Electronic DJ set
Free
(No ticket required - First come first served)
7:00PM
The film will be introduced Deptford Lounge Hothouse artists Uninvited Guests, followed by electronic DJ set.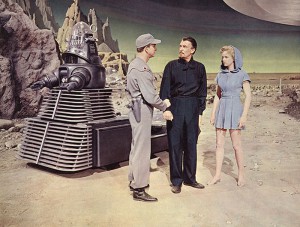 In this sci-fi classic, a spacecraft travels to the distant planet Altair IV to discover the fate of a group of scientists sent there decades earlier.
When Commander Adams and his crew arrive they discover only two people: Dr Morbius and his daughter Altaira. Soon, Adams begins to uncover the mystery of what happened, and why Morbius and Altaira are the sole survivors.
In this 1956 pop adaptation of Shakespeare's The Tempest. Walter Pidgeon is the Prospero figure, presiding over a paradisiacal world with his lovely young daughter and their servile droid – a classic robot called Robbie

To mark the 400th anniversary of William Shakespeare's death we are screening several bard-related films. Look out for this symbol on our event pages.