Share

Saturday 12th September 2020
Exploding Cinema presents Express Your SE15
Free
(No ticket required - First come first served)
8:00PM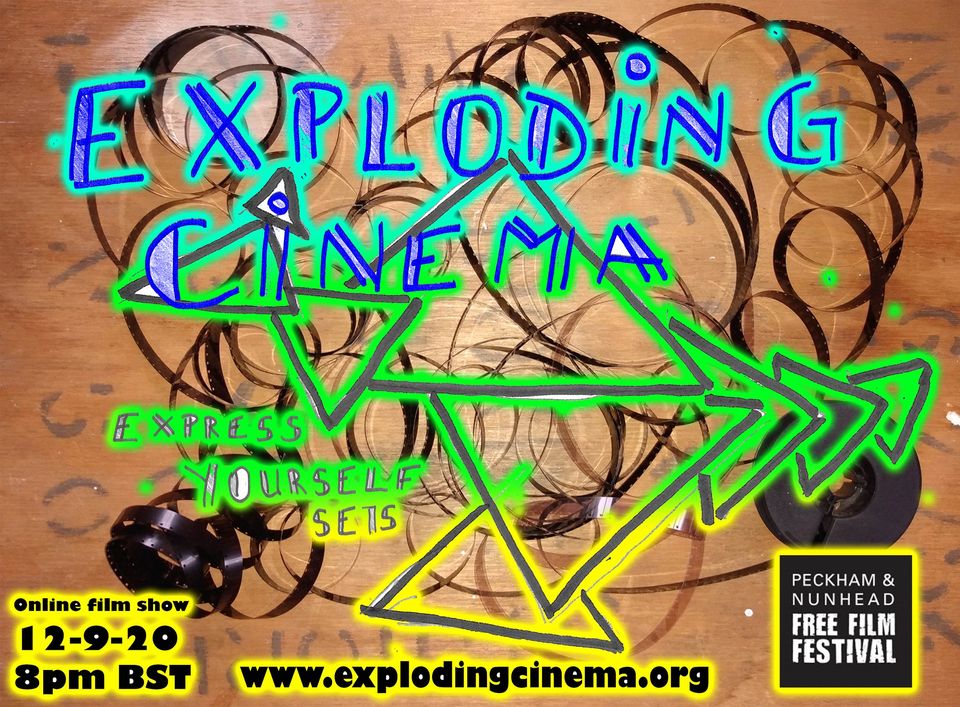 Exploding Cinema is back at 8pm London time on 12th of September in collaboration with the 2020 Peckham and Nunhead Free Film Festival.
We will be hosting an online show of new shorts with an emphasis on works by the good people of London's SE15. There will be live zoom chats with the filmmakers and our usual blend of the unexpected and the uninvited.
So let's kick off the slippers, batten down the hatches for a Sou'Easter and see if you don't have to be in Nunhead or Peckham to watch the show, and whether it'll help if you are.
We will be running a live Zoom gathering in parallel to the show. Details on how to join the Zoom Room will be published at:
https://explodingcinema.org/2020/next-show/
WATCH THE SHOW right here:
https://freefilmfestivals.org/event/exploding-cinema-presents-express-your-se15/
Or on YouTube:
https://www.youtube.com/user/TheExplodingCinema/live
IMPORTANT INFO for FUTURE SUBMISSIONS:
If you live in SE15 or have shot a film there, this is the show to submit to!
However we're always looking for new video work for our regular shows, be it documentary, animation, comedy, second-life, music or montage. Our only restriction is that your film should be 20 mins or less. Most formats are fine for when we return to 'real life' screenings but for optimal online playback please render your film as an mp4, codec H.264. Dimensions can vary but a maximum of 1280 x 720 at 30 frames per second works best at present.
Send any queries, download links or attachments to:
explodingcinema@hotmail.com
peckhamfreefilmfestival | freefilmfest | _pnfff | YouTube | pnfff@freefilmfestivals.org