Share

Monday 01st May 2017
Embrace of the Serpent
Free
(No ticket required - First come first served)
8:00PM (Doors open 7:15PM)
A winner at Cannes and a nominee for the 2015 Best Foreign Language Oscar (Colombia's first ever Oscar nomination), Embrace of the Serpent tells two tales – separated by more than 30 years – of European scientists searching for the yakruna, a mystical and fictional flower. Join us at The Lido Café, one of our favourite venues, on 1 May at 8pm for Ciro Guerra's dreamlike journey to the Amazon.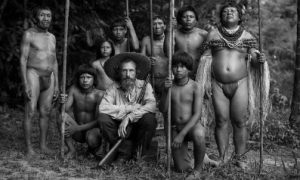 In one sense Embrace of the Serpent is a drama about the effect of European colonialisation on the Amazon but in another it is an attempt by Colombian director Ciro Guerra to build a bridge between western and Amazonian storytelling. Shot on location in the Colombian jungle over 8 weeks the film tells two stories of European explorers searching for a fictional flower, set more than 30 years apart. Based on the journals of two real-life explorers, the film weaves these stories around a shamen called Karamakate who is the last surviving member of the Cohiuano tribe. An old and a young Karamakate puts the Europeans' materialism and vanity into perspective but in this 2hr visual indulgence these characters also offer an indigenous viewpoint to the terror and violence of the colonial era.
With breath-taking cinematography and a soundtrack that blends indigenous song with contemporary instrumentation this is a film you can't miss. The Guardian called it an "extraordinary, hypnotic work" and we were certainly extraordinarily hypnotised when we saw it during its too-narrow UK release in 2016. If you want to see for yourself, and we recommend that you do, join us at The Lido Café on 1 May at 8pm!
Click here to see the trailer.