Share

Thursday 11th May 2017
Easy Rider
Free
(No ticket required - First come first served)
8:00PM (Doors open 7:15PM)
OUTDOOR:
Canopy Beer
Bring something to sit on and whatever you need to stay warm and dry
A down-and-dirty directorial debut from former clean-cut teen star Dennis Hopper, Easy Rider is the definitive counterculture blockbuster. In 1969 it heralded the arrival of a new voice in film pitched angrily against the mainstream, with radical editing, an outsider-rock soundtrack, a revelatory performance by a young Jack Nicholson, and an explosive ending. Rev on down to Canopy Beer Co. on 11 May at 8pm to join us for this icon of 1960s cinema… if you've seen it before you know what we mean, and if you haven't you won't be disappointed!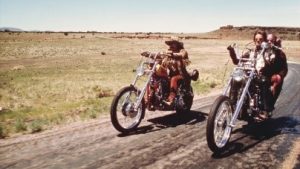 Two young bikers, played by Peter Fonda and Dennis Hopper, score a successful drug deal in California with Connection, a Rolls-Royce driving Phil Spector, and stash their money in their gas-tanks before setting off on a road trip with Mardi-Gras in New Orleans their ultimate destination. During a personal odyssey in which they are looking for a way to live their lives the film's two protagonists encounter a wide landscape of different lifestyles, from a rancher and his wife hard-pressed to make ends meet to bigotry and hatred in small-towns and a group of hippies struggling to make their alternative community work. Having made it to Louisiana, and after a bad hallucinogenic experience and a disagreement over whether their journey has been successful, Fonda and Hopper roll on to Florida and the film's unexpected ending.
Easy Rider's production might be littered with stories of friendships and falling outs, long rough cuts, knife-fights, stolen motorcycles, lies and drug-taking but what was ultimately released has gone down as a landmark counterculture film and a "touchstone for a generation". Come to Canopy Beer Co. on 11 May at 8pm to join us for the film that captured the national imagination in America in 1969, influencing cinema well into the 1970s and beyond. The soundtrack ain't half bad either.
Click here to see the trailer.