Share

Thursday 15th September 2016
Short Film Screening – Charlton and Woolwich Free Film Festival
Free
(No ticket required - First come first served)
7:00PM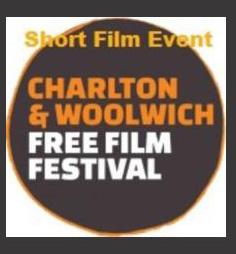 Sit back and enjoy Charlton and Woolwich Free Film Festival's short film night showcasing the best shorts around. We have  included a selection of of jaw-dropping, head-scratching masterpieces chosen from over 4000 submissions.
Doors plus cocktail bar open at 7pm and screenings begin at 7.30pm.
Cocktail Bar provided by Yawning Donkey.
Drinks, Cocktails, Soft Drinks and Snacks available.
The event also includes a directors Q&A.
Our full programme is listed below:
19:30 Introduction – Celso and Gavin
19:35 Introduction for C&WFFF – Select 18
19:36 Christine – Select 18
19:39 Polterheist – David Milbank
19:54 The Song of Wondering Aengus – Matthew Lawes
19:58 Ink – Lewis Rees
20:00 Bench – Chris Law
20:05 Nange Pair – (Bare Feet)- Shilpa Johar
20:09 DIRECTORS Q&A: Mark and Christine (Select 18), David Gilbank (Polterheist), Matthew Lawes (The Song of Wondering Aengus), Lewis Rees (Ink), Chris Law (Bench)
21:30 Michael- Jonathan Kemp
21:26 The Bondage Network – Santi Spadaro
21:16 Stained – Mark Brown
21:11 HIMIKO THE GODSLAYER vs. THE DAEMON LEGION OF AZURE DRAGONS – Hikaru Tsukuda
21:05 Ballpark Bullies – Valerie Alexander
20:53 Faggot – Sébastien Bélier
20:44 Final Analysis – Alexander Schoenauer
20:25 The Chunk and the Whore – Antoine Paley
20:40 Magic – Iker Arce
20:21 Vanessa – Select 18
20:20 Introduction CWFFF – Select 18
21:40 INTERVAL
21:45 Ebru – Angelique Merchant
22:00 Outside Your Window – Paul Cavallo
22:04 Recall – Jamie Sims
22:09 Last Night – Graham Neale
22:15 We Shape Our Buildings – Pawel Stec
22:17 Hada – Tony Morales
22:23 KAOTIKA – Bilal Cangul
22:29 The Device – George Wroe
22:45 THE END
Due to the content of some of the films we have rated this screening 18