Share

Tuesday 09th May 2017
Bob Roberts
Free
(No ticket required - First come first served)
8:00PM (Doors open 7:15PM)
In 1992 Bob Roberts, a satirical American-British mockumentary, was released written, directed by and starring Tim Robbins. The film wasn't a massive success at the time and after having been forgotten for almost twenty five years, interest in it suddenly picked up in late 2016. Why? Well, it was rated by Rolling Stone magazine as the #1 film to predict the rise of Donald Trump. We're not sure that it predicted anything but there are a few uncanny moments in the film that aren't quite as funny in 2017 as they probably were in the early 1990s. We searched long and hard to get the licence for this one do don't let us down, and come along to The Florence on 9 May at 8pm to see what Rolling Stone is talking about!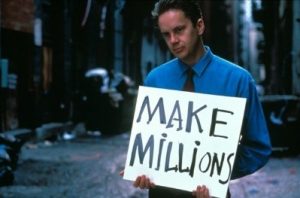 In the tradition of This Is Spinal Tap, producer / director / star Tim Robbins' Bob Roberts is a satire disguised as a documentary. Robbins plays the titular Roberts, a wealthy, well-connected young man running for a senatorial seat in Pennsylvania who, on the surface, is an ingratiating glad-hander and a believer in the restoration of such intangibles as national pride and family values, etc. However the longer Roberts is followed by documentary filmmaker Brian Murray, the more you become aware that the candidate is a textbook case of cynicism and contempt. Only a reporter for an underground newspaper is willing to dig beneath his veneer, and he brings the film to its ironic conclusion.
Believe it or not, we remember this one from its release in 1992 and it has always been in the back of our minds as a film we have wanted to bring to the people of Herne Hill. When Donald Trump was elected in POTUS in 2017 the decision was taken out of our hands – we had to do it. So come along to The Florence on 9 May at 8pm to see what the fuss is about and laugh – fairly uncomfortably we expect – at Tim Robbins's "satire".
Click here to see the trailer.