Share

Thursday 03rd May 2018
Blow-Up
Free
(No ticket required - First come first served)
7:30PM
Life behind the lens and the secrets a film negative can hold.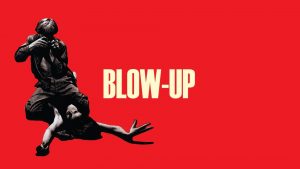 Filmed during London's swinging 60s, Blow-Up turned the role of photographer into rock star.
Thomas (think Bailey and Duffy), a successful photographer whose world is bounded by fashion, pop music, drugs and easy sex feels his life is boring…until he meets a mysterious beauty and notices something suspicious on one of his photographs of her.
The fact that he may have photographed a murder does not occur to him until he blows up his negatives, uncovering details and finally putting the puzzle together.
Sections of the film are shot in Maryon Park, Charlton and Consort Road, Peckham; see if you can spot them.
Doors open 7pm. Film starts 7.30pm