Share

Friday 11th May 2018
Belleville Rendez-Vous
Free
(No ticket required - First come first served)
9:00PM (Doors open 8:00PM)
OUTDOOR:
Herne Hill Velodrome
Bring something to sit on and whatever you need to stay warm and dry
Belleville Rendez-Vous is a stylish and charming animation written and directed by Sylvain Chomet. The main characters are Madame Souza, her orphaned grandson Champion and his dog Bruno.  Champion, under his grandmother's influence, falls in love with cycling and trains relentlessly for the Tour de France. He finally takes part but is abducted with 2 other competitors by the French mafia.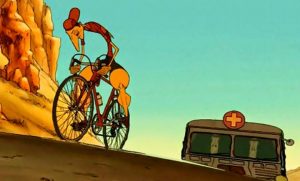 There then follows a chase across the Atlantic to Belleville (a thinly disguised New York) every bit as exciting as the Peleton following the leaders in the Tour de France! With the aid of  'The Triplets of Belleville', an eccentric aging jazz trio who were glamourous chanteuses in their youth, Madame Souza embarks on a quest to find her grandson.
The Herne Hill Velodrome's impressive new pavilion becomes an open air auditorium for a screening of this family friendly caper!
Click here to see the trailer! Drinks and snacks will be available.
As part of this year's Herne Hill Free Film Festival we are excited to be partnering with the Norwood and Brixton Food Bank, helping to raise awareness for this most worthy of local causes. We will be collecting food donations and spare change at each of our screenings so, if you can, any food or money that you can spare would be greatly appreciated to help this wonderful charity continue the admirable work they do in the local area. We will be tweeting information about urgently needed items so stay tuned on Twitter to @HerneHillFilm.