Share

Saturday 23rd April 2022
Back to the Future with Deptford Folk and Electric Pedals
Free
(No ticket required - First come first served)
8:00PM
OUTDOOR:
Folkestone Gardens
Bring something to sit on and whatever you need to stay warm and dry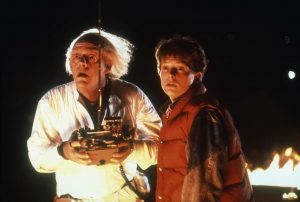 Break a sweat for cinema at this 100% pedal-powered film screening. The audience cycle stationary bikes generating 1.21 Gigawatts, powering the DeLorian to 88 miles per hour and taking Marty Back to the Future.
In 1985 Doc Brown invents time travel, sending Marty McFly back to 1955 where he accidentally prevents his parents from meeting, putting his own existence at stake.