Share

Sunday 17th December 2017
Arthur Christmas
Free
(No ticket required - First come first served)
3:00PM (Doors open 2:00PM)
INDOOR:
Copper Beech Cafe
Give your festive cheer a mid-December boost at the Copper Beech Cafe at JAGs Sports Club on the 17th December at 3pm, with a free kid-friendly screening of the charming, intelligent and (most importantly) silly Aardman animation Arthur Christmas.
Since its first foray into feature films British animation studio, Aardman has built a reputation for producing witty playful flicks that cater equally well to young and young-at-heart audiences, and Arthur Christmas is no exception.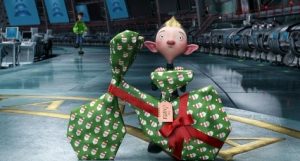 Based on documented fact (yes, really) Arthur Christmas allows us to take a peek into the workings of Santa Claus's high-tech logistics operation hidden deep under the North Pole, revealing that it is not quite the well marzipaned machine we might have been led to believe.
With a star-studded cast featuring the voices of some of the UK's finest acting talent, the film tells the story of a Christmas Eve present delivery gone awry and one boy's mission to right that wrong, and make sure a good little girl's Christmas is not a bicycle-free ruin. That boy is Santa Claus's hapless son Arthur, and his mission needs to be completed before dawn on Christmas Day. Helped by his Grandsanta, a wrapping elf called Bryony and a geriatric reindeer, Arthur's goal is to make sure that Christmas really does come to absolutely everyone.
The Herne Hill Free Film Festival is excited to coming to the Copper Beech Cafe at JAGs Sports Club on 17th December at 3pm for this kid-friendly screening. The cafe is a tasty new addition to the local scene, and we're looking forward to it becoming a regular fixture in the festival's calendar!
Before you leave home we encourage you to grab some supplies or any spare change to help the Herne Hill Free Film Festival help the Norwood and Brixton Foodbank make as many happy Christmases as possible in the local area this year. The Herne Hill Free Film Festival will be tweeting information about urgently needed items so stay tuned on Twitter to @HerneHillFilm.
Click here to see the trailer!