Share

Wednesday 15th September 2021
2040
Free
(No ticket required - First come first served)
8:00PM (Doors open 7.45pm)
INDOOR:
Veolia (UK) Ltd, Southwark Integrated Waste Management Facility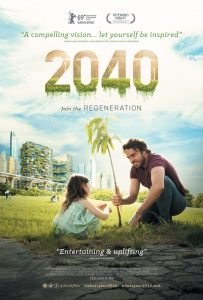 2040 is a hybrid feature documentary that looks to the future but is vitally important NOW!
Award-winning director Damon Gameau (That Sugar Film) embarks on journey to explore what the future could look like by the year 2040 if we simply embraced the best solutions already available to us to improve our planet and shifted them rapidly into the mainstream. Structured as a visual letter to his 4-year-old daughter, Damon blends traditional documentary with dramatised sequences and high-end visual effects to create a vision board of how these solutions could regenerate the world for future generations.

This state-of-the-art facility can process all of Southwark's household waste and recyclables helping to significantly improve recycling rates and reduce the impact that the borough's waste has on the environment.
This facility represents a key piece of waste infrastructure that sets the standard for the way waste is managed in the capital.
It also enables us to divert the majority of Southwark's waste away from landfill.
• The Recycling Discovery Centre offers educational opportunities designed especially for primary school children.