Share

Saturday 05th May 2018
Coco
Free
(No ticket required - First come first served)
4:30PM (Doors open 4:00PM)
Those rascals at Pixar have been up to their old tricks again, creating another animated masterpiece to tickle our funny bones and melt our hearts. We're running TWO SCREENINGS on 5 May at 2pm and 4:30pm as we expect this to be a popular event, and we don't want anyone to miss out!
Before each screening of CoCo we will be running an exciting and engaging short FREE kids' drama workshop with the lovely people at Clip Theatre, so make sure you arrive early for a jam-packed afternoon of dramatic and cinematic joy! The workshops start at 1:30pm and 4:00pm (that's 30 mins before the start of each of our screenings)!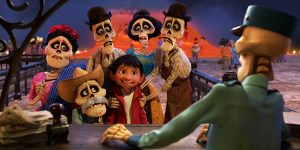 Fresh from its runaway victory at this year's Oscars we are overjoyed to present to you Coco.  This is the story of an aspiring young musician, Miguel, who when confronted with his family's ancestral ban on music, enters the Land of the Dead in search of his great-great grandfather, a legendary singer.
Coco is a charming family film suitable for all.  Its blend of fantastical landscapes, vivid colours, memorable characters, toe-tapping tunes, raucous humour and emotional depth, work in beautiful harmony ensuring that Coco is up there with Pixar's best work.
And the ending!  Well let's just say I couldn't get it out of my head for several days afterwards.
Bring your children, bring your parents, bring your grandparents, drag strangers in off the street, just be there for our FREE screenings at Effraspace, kindly sponsored by Apple Tree Children's Café.
Click here to see the trailer!
This screening will be shown in a relaxed environment!
As part of this year's Herne Hill Free Film Festival we are excited to be partnering with the Norwood and Brixton Food Bank, helping to raise awareness for this most worthy of local causes. We will be collecting food donations and spare change at each of our screenings so, if you can, any food or money that you can spare would be greatly appreciated to help this wonderful charity continue the admirable work they do in the local area. We will be tweeting information about urgently needed items so stay tuned on Twitter to @HerneHillFilm.